Uptown Alley Bulk Grocery Pickup
How to order
You can order online by email or by using our online order form. When ordering by email, please include a list of the products you would like as well as your name, email address and phone number.
*Please note these prices do not include taxes
Special Requests
If you are looking for an item that is not on our list, ask us by email and we will let you know if we can get it for you as well as a price.
When to Order
We will be receiving shipments on Wednesdays as well as Fridays. Please order by 6PM on Monday to get a Wednesday pickup, or 6pm Wendesday for a Friday pickup.
How to Pay
We will reply to your order with a total (based on availability), and the order will be placed once we have received an email transfer.
Dairy Farm
1
EGGS LARGE
30/10.99
1 LB
BUTTER SALTED CDN
$ 5.46
1 LB
BUTTER UNSLT CDN
$ 5.67
Meat Shop
3
100 CT
BACON PRECOOKED SLI 14/16 CDN
$ 33.29
11OZ
PORK CHOP TOMAHAWK FZ
8/52.99
12
104 GM
SANDWICH MUFFIN EGG/BACON/CHS
$ 33.29
32
140 GR
PORK CHOP B-I C/C M/E SEAS.5OZ
$ 79.69
1
5LB
MEAT FROZEN BOX ASST A
$ 35.00
1
5 LB
MEAT FROZEN BOX ASST B
$ 53.00
1
10LB
MEAT FRZN ASST BOX "D"
$ 94.00
1
3.6 KG
PIZZA PEPPERONI & BACON POPS
$ 34.59
2
5LB
FRANK ALL-BEEF 4X1 8 FZ
$ 43.77
Poultry Barn
1
5 KG
CHICKEN THIGH BNLS/SKLS
$ 59.99
1
4 KG
CHICKEN BRST 5OZ BRD PAR FRIED
1/2kg$ 41.40
2
2KG
CHICKEN TENDER BRD PF GRAND
$ 30.00
1
4 KG
CHICKEN BRST IQF B/S 6OZ
$ 52.00
Seafood Lodge
PIKE PERCH FIL SKLS ZANDR 6-8Z
$ 5.99
4 Fillets
SALMON LOIN WILD PINK 6OZ
$ 19.99
1
2.5LB
SHRIMP WHT P&D RAW T/O 16/20
$ 32.55
Vegetarian Delight
3.5 OZ
SAUSAGE VEGETARIAN ITAL HOT
10/28.9
6
2 LB
BEEF GROUND VEGTRN
$ 24.69
4 OZ
BURGER VEG BEYOND MEAT 4 OZ
10/33.9
5 LB
SAUSAGE ITALIAN CRUMBLE VEGAN
5lb/50.49
2.27KG
MEATBALL VEGAN BEYOND MEAT
$ 62.39
3.5 OZ
SAUSAGE VEGETARIAN ORIG BRAT
10/28.97
93 GR
BURGER VEGETABLE SPCY BLK BEAN
12/19.69
96G
BURGER VEG GRDN ORIG
12/18.09
156GR
BURGER VEG FRZN
3.25 PER
Grocery Aisle
2 KG
SUGAR BROWN GOLDEN YEL
$ 6.99
20 KG
FLOUR ALL PURP
$ 19.29
5 KG
POWDER BAKING
$ 30.99
1 KG
SUGAR ICING
$ 3.69
506
TOILET PAPER
$ 1.00
2 KG
SUGAR GRANULATED
$ 5.29
2 LB
YEAST ACTIVE DRY
$ 10.29
22.7KG
RICE PARBOILED PERFECT
$ 69.99
2
4 KG
RICE BASMATI
$ 37.69
Produce Aisle
1
12LB
FRUIT ASSORTED BOX
$ 24.99
1
10LB
VEGETABLE ASST BOX
$ 24.99
1
ONION YELLOW JMBO FRSH
$ 0.75
1
ONION RED JMBO FRSH
$ 0.75
Take a Look at some of our Pre-Packed Selections Below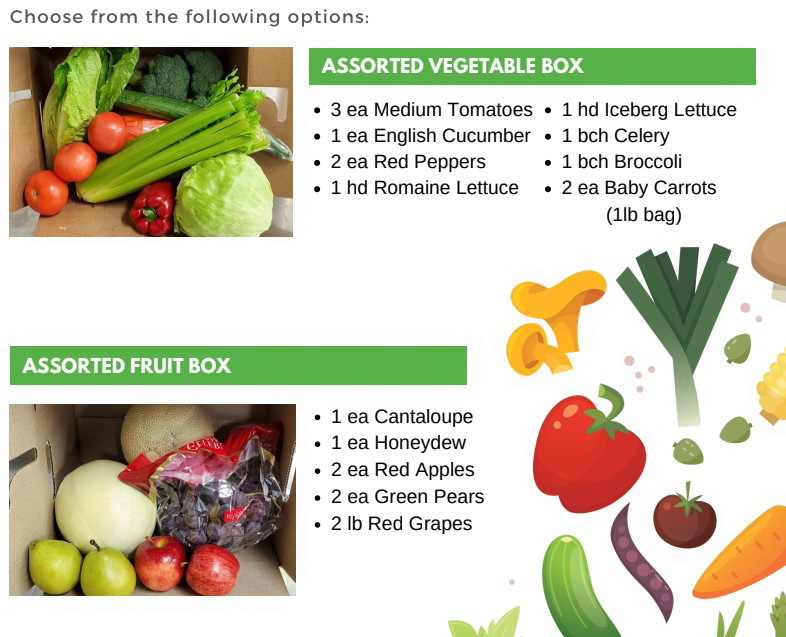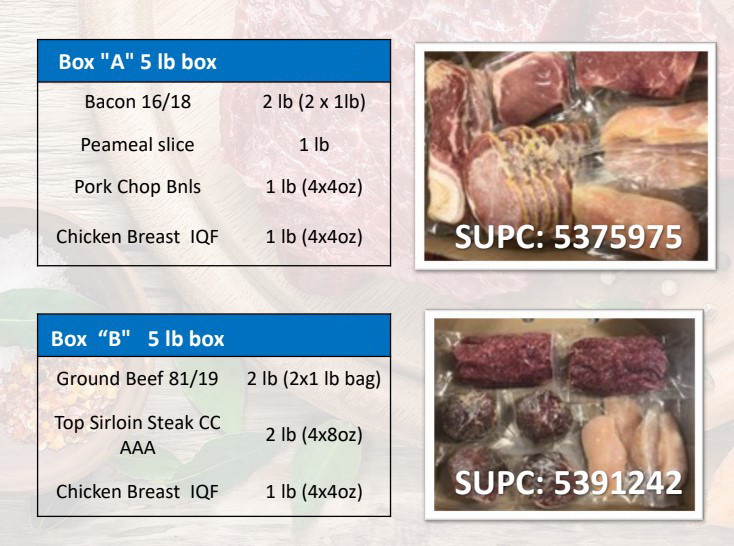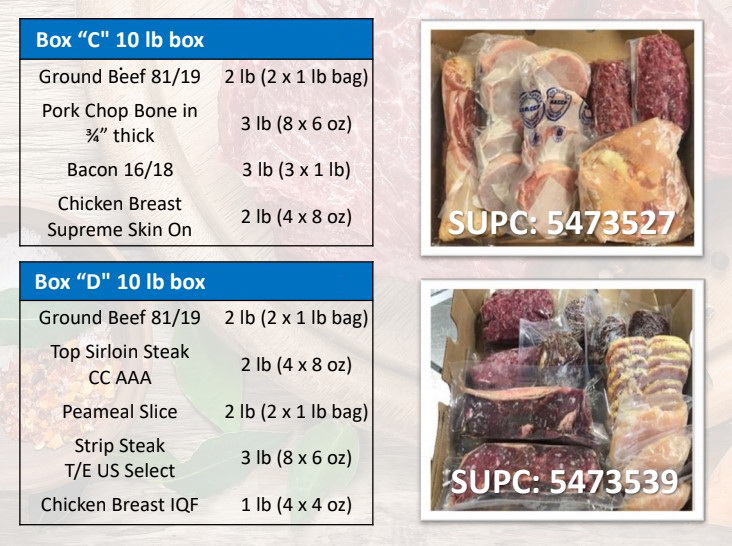 go back