Winnipeg's Finest Arcade.
We got game.
Uptown Alley's arcade offers over 50 player positions, a ton of space to move around, and the best prize redemption centre in Winnipeg – by far.
Looking to trade a bunch of tickets for a rubber spider worth less than a penny? How about a hard-as-a-rock chunk of toffee that's been on the shelf since 2001? You're in the wrong place. But if you want a whole new ticket redemption experience, with amazing prizes, check us out.
Register Your Card Online!
Register your card online and reload it from your mobile device using Mobile Wallet!
Be sure to visit our card registration page and register your game cards today! If ever lost or stolen, we will be able to transfer your saved information onto a new card!
Also check out our virtual redemption store once you have registered your card! We'll help you pick prizes and arrange for a date and time to pick up your winnings!
read more
Prepare for the XD Dark Ride Experience!
Strap on your seatbelts and get ready to play!
This is a cool new ride we have recently added to our arcade!  Enter the Darkride theatre, hop in your seat, strap on your seatbelt and blast your way to victory on the huge screen!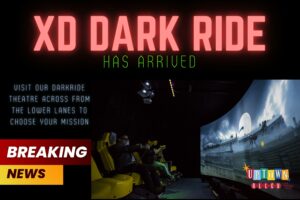 read more
Half Price Tuesdays
Now Includes our Arcade!
Join us on Tuesdays for half-priced bowling, laser tag and now arcades take half the credits as well!!
Please note this does not mean that arcade cards are half the price.  This means that arcade-style games take half the credits to play.
Arcade Pricing
How our Arcade Card System Works
Game cards can be purchased at either of our 2 Kiosks, at our redemption counter located in the arcade or at any counter!
Arcade Cards
$5 = 20 Points
$10 = 40 Points
$20 = 80 Points
$30 = 120 Points + 20 Bonus
$60 = 240 Points + 50 Bonus
$80 = 320 Points + 100 Bonus
$100 = 400 Points + 150 Bonus
Please be aware that the cost of games ranges from 2 to 28 points.
Some of the Games we Have to Offer!
We recently added more new games to our arcade!
Coin Pushers
Willy Wonka
DC Superheroes
Spongebob
Square Pants
Marvel Avengers
Angry Birds Coin Crash
Pearl Fishery
Arcade Games
Halo Fireteam Raven
Cruis'n Blast
MotoGP
Jurassic Park
King Kong of Skull Island VR
TrioTech Storm VR
Asphalt 9 Legends – This one is a new guest favourite!
Let's Go Jungle
XD Darkride – You have to see it to believe it!
Fun Stop Photo Booth
Redemption Games
Connect 4 Hoops
Dodge Ball Ultimate Arena
Tower of Tickets
Willy Crash
Bean Bag Toss
Ring Toss
Ice Man
Mario Kart
Nerf Arcade
Cut 2 Win
Space invaders Frenzy
Big Bass Wheel
Ticket Monster
Grand Piano Keys
Crossy Road
Gold Fishin
Quik Drop
NBA Hoops
Skee Ball
Down the Clown
Milk Jug Toss
Whack N Win
Gear It Up
Grab n Win
Ticket  Factory
Doodle Jump
King of Rings
Monopoly
Power Roll
Hungry Hungry Hippos
Wheel of Fortune
Win big.
If you did well at the machines, you deserve some quality loot!
After gaming in Winnipeg's newest arcade, grab a basket so you can browse our aisles and actually shop for your prizes in a store-like setting – with some truely amazing prizes.
FAQ
How do I know how many tickets I have won?
There are actually a couple of ways to find out: 1 - touch any card reader with your finger (this turns the reader into balance check mode), then tap or swipe your card to see your balances. 2 - visit one of our two kiosks and follow the on-screen directions 3- visit our redemption counter and ask our team to check your balance for you.
Do our games take tokens or coins?
Our games actually use a swipe card system. You can add points to your card at any desk or our kiosks located in the arcade.
How much do the games cost?
$1 gets you 4 points, so a point is about $.25. Games cost anywhere from 2 to 16 points, so from $.50 up to $4.